As the Central West End has seen historic levels of investment with tens of millions of dollars of renovations and new construction over the last few years, neighboring communities like Skinker-DeBaliviere, Midtown, and The Grove have experienced significant ancillary growth. St. Louis neighborhoods that traditionally make up what is known as the region's "Central Corridor" have strengthened, revitalized, and become substantially more wealthy. Over the last few years in particular, other communities adjacent to the Central Corridor have begun to enjoy the fruits of St. Louis' newfound development and success, yet with some notable exceptions.
While South St. Louis has seen its population stabilize or even increase in previously hard-hit neighborhoods like Dutchtown, much of North St. Louis has continued to depopulate as development has struggled to even begin to cross the infamous "Delmar Divide". The divide, which signifies a racial and wealth gap between communities North and South of the street, has been a fixture of St. Louis politics and community action for decades.
Segregation in St. Louis is just as present today as it was decades ago, even if many of the practices such as Redlining and Restrictive Covenants are no longer explicitly legal. De facto segregation is still horrifyingly apparent. Communities still experience the impacts of a legal system designed to oppress people of color, where segregation in the form of Jim Crow laws are outlawed but wherein the consequences and harm are not actively fixed or accounted for. The systems that kept Black St. Louisans in the North side of the city and prevented investment in Black communities caused generational harm, and with only a handful of decades between now and Jim Crow, it is ludicrous to expect an even playing field.
The divide is as much engrained in the physical environment of St. Louis as it is in the demographic makeup of our communities. From Downtown to Skinker-DeBaliviere, neighborhoods directly South of Delmar Blvd. contain a host of infill, renovations, businesses with high-paying jobs, and significantly better infrastructure. Most notably, the neighborhoods South of Delmar are predominantly white.
Such issues might best be classified as "Wicked Problems", often used in the environmental context, because of the large-scale and complex policy solutions that take many years to unpack. To solve segregation in St. Louis, like most U.S. cities, there is no single solution. Instead, a host of attitude and policy changes must occur.
With that said, there are notable efforts in action here in St. Louis that take aim at the most infamous geographical segregation at the city's "Delmar Divide". Kevin Bryant, President of Kingsway Development, recently unveiled a massive, $84 million development at the intersection of Euclid and Delmar Blvd. Looking to leverage the strength and momentum of the Central West End neighborhood and bring its success due North where investment abruptly ends, Bryant is taking aim at reducing vacancy, providing affordable housing, and creating a community of mixed income levels.
The project is predominantly located within the Fountain Park neighborhood, lying just North of the Central West End. In 2015, 84.4% of Fountain Park residents were Black, whereas just south of Delmar in the Central West End, only 29% of residents are Black. Despite its proximality to the CWE, it has seen its fortunes decline over the past several decades. Even as rents rise consistently just South of Delmar Blvd., the buildings in which Kingsway Development hope to redevelop mostly sit vacant.
Often when large developments are proposed in lower income communities, ones that might be predominantly Black communities, gentrification reasonably becomes a major concern. While I have previously covered that social scientists generally have mixed views on the actual negative impacts of gentrification, some studies show that gentrifying neighborhoods lose their affordable units at 5x the rate of other neighborhoods. There is still active debate regarding how many residents are displaced or whether it is statistically significant when compared to how many residents might leave a neighborhood over several years in the first place, gentrification is a broader issue that covers more than simple physical displacement.
Like most big issues, there is considerable nuance. That is why developers should be cognizant of not just the negative impacts of gentrification, but also the historical character of a community and its demographic makeup. That is not to say that they cannot and should not build in certain communities, but that they should work with the community itself to make sure it can be part of the community, not taking advantage of it, but adding to it and providing value.
That careful planning is precisely what Kingsway Development has worked so hard to accomplish. Kevin Bryant, President of Kingsway Development, was kind enough to respond to my request for a comment with a substantial conversation on the merits and risks of his project.
Unlike other large, phased projects like the Centene Clayton Campus where the best, most impactful portions of the development are cancelled after being used to help push for tax incentives, Bryant and Kingsway are providing value instantly to Fountain Park. The first phase will include a mix of rehabs and new construction for affordable housing, capitalizing on historic, vacant housing stock and filling in vacant lots. Bryant believes that while gentrification is, and should be a concern to major developers, that this project brings more people in of mixed incomes where there weren't residents already.
The Kingsway Development Corporation was created out of the necessity to cease the rapid decline of American neighborhoods and restore them to their potential of vibrancy and communal splendor. 

Kingsway Development
Bryant is quite proud of where his opportunity to develop this tract came from. The Fountain Park neighborhood sought a developer for this land, specifically looking for a way to capitalize off of its major potential and proximity to the CWE without negatively impacting or taking advantage of its residents. Working in conjunction with the neighborhood, St. Louis Development Corporation (SLDC), and their Alderman, Bryant has found a large base of support. Solidified by public meetings and community input, the plan originated from the neighborhood and immediately offers public benefit. Much of the support is public and visible with written endorsements here.
The plan will include five projects over 2 years alongside and North of Delmar Blvd. Construction will begin alongside Delmar, where the vacancy is immediately apparent across from The Lofts at Euclid, on the South side of the Euclid and Delmar intersection.
The first phase will include 22 affordable homes, below market-rate, aimed at creating a more "mixed", dense neighborhood that residents of different incomes can enjoy. Bryant hopes to "set the precedent" with these homes, creating a model for other developers and investors to follow as he opens up later phases to other developers who go through their community approval process. If other individuals or companies seek to purchase adjacent LRA property, some of which can be found here, they must go to the neighborhood association, Kingsway Development, and ultimately through the LRA approval process. This methodology will prevent speculators and ill-equipped investors from hindering progress.
The first batch of construction will also include a $6.3 rehab of the building at 4731 Delmar Blvd. into office and commercial space, creating a more mixed-use neighborhood once each phase is built out. The gallery below showcases the current and future state of the large structure. This will be a significant street activation, where a blank wall currently meets the sidewalk.
Kingsway Development is seeking a $6.2 million subsidy in the form of tax-increment financing (TIF) from the St. Louis City TIF Commission, followed by a public hearing on December 9, 2020. While Missouri Metro shares the concerns of many St. Louis City residents regarding TIFs and utilizing public financing means as a tool for economic development, this project exists in an entirely different context than most big developments that receive TIFs. While this proposal runs along Delmar Blvd. and the blocks North of the infamous, long-lasting demographic divide, many others utilize public financing even in strong markets in the city's Central Corridor.
TIFs are best used to eliminate the "market gap" that exists in developing or low-income areas, wherein the cost of development and revitalization exceeds the expected return on investment. They can be an incredible tool when used properly, aiding neighborhoods that traditionally wouldn't see money flowing in. As Missouri State Auditor Galloway recently revealed in a public audit, however, St. Louis City leaders lack any formalized methodologies or goals when awarding TIFs, often aiding developers where there might not be any market gap.
In this case, Kingsway Development plans for the TIF to primarily go toward streetscape improvements along Delmar Blvd., which is in poor shape thanks to the long-term lack of investment. Other financing is also expected, including Missouri & Federal Historic Tax Credits, Missouri Brownfields Tax Credits, and Federal New Market Tax Credits. While there is still a funding gap, Bryant and the SLDC are optimistic that the project will fill that void as it solidifies investor partnerships.
With the office and commercial building at 4701 Delmar preleased already, according to Bryant, and poised to potentially break ground this December, they are preparing the subsequent phases for a quick rollout. Kingsway Development plans for a second office building with a $14 million price tag to begin shortly after construction at 4701 Delmar begins, with a rehab slated to begin around the same time at 4915 Delmar Blvd. The 4915 Delmar rehab is projected to cost $3.8 million and become a performing arts center to create a more vibrant, 24-7 district.
Late next year, perhaps the biggest portion of the project is slated to begin – a $43 million apartment complex, "The Bridge", with 156 residential units. These units will add significant density to the Fountain Park neighborhood and fill out the vacant Northern section of the Euclid and Delmar intersection.
"We imagine creating a project that will be a symbolic unifier for both sides of the street,"

Kevin Bryant – speaking to the TIF Commission
Many of the units offered will be market-rate, adding to the many affordable homes being renovated and built on neighborhing parcels. Some of those affordable homes will be restored LRA properties, which sit vacant and awaiting developers willing to salvage distressed properties. Unfortunately, the LRA is one of the few land banks in the country without funding sources (save for the sales themselves), and it generally does not have sufficient resources to put work into the thousands of homes it owns to fill the aforementioned market gap. As such, many LRA properties worsen in condition and become even harder to sell to investors. A significant purchase of these properties, with many being salvaged, is a big deal both in terms of historic preservation and because it perhaps saves these homes from the wrecking ball, freeing up other city resources.
While the project is certainly large in scope, Bryant and Kingsway Development are not going in alone. Alongside the full backing of the community and partners like the SLDC, his development team includes industry veterans such as Brian Pratt, a former Green Street executive, as well as Kwame Building Group and Trivers, a construction and architecture firm.
Missouri Metro has extensively covered phased developments that go wrong, like the Centene campus mentioned at the top of this article. That being said, development proposals like the project Kingsway Development has put forth, deserve extra focus, and perhaps even praise if done correctly. This is especially true when considering the impacts on a low-income, predominantly Black community that has seen decades, if not centuries of oppression. A large development could either the first domino that falls and triggers the transformation and empowerment of a community, or the erasure of one that has suffered so much already.
Alderman Jeffrey Boyd, who represents the 22nd St. Louis Ward in North City, was kind enough to make himself available to Missouri Metro to discuss the hardships Black people have historically faced that helped create the Delmar Divide as we see it today. We also were able to discuss the development patterns seen in the city, and Boyd specifically called out the tendency for officials to award public financing packages to projects in the Central West End while streets, homes, and whole neighborhoods crumble just North of Delmar.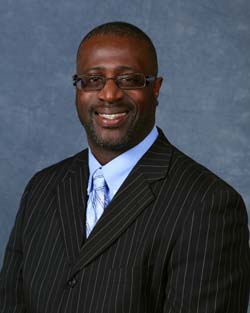 Boyd stresses that the only major developments North City has seen, or that the city has generally helped to promote, are affordable housing units. While those have positive impacts and fill a specific need, Boyd worries that they don't do much to attract any new families or investment to North City neighborhoods. They do not make it more desirable, rather, only solidify the low-income status of communities if they are the only major investment seen. He believes that the best developments would begin to make more mixed income communities, offering amenities that actually attract new residents, providing better amenities and a better built environment for existing residents as well. That is to say, while affordable housing would be a fundamental inclusion, investment should go beyond that and create, support, and foster diverse communities.
City support would go a long way for improving North St. Louis neighborhoods, where institutional barriers like access to financing already create a bleak picture for residents looking to better their own communities. Alderman Boyd and his wife, Patrice Boyd, grew up on the same street they now live on today, and after moving back following his time in the military, they looked to invest in real estate and restore housing stock.
At the time, they could hardly get a hold of their Alderman. They hunted for grants, and partnered with Northside Regeneration, which has now developed a reputation for sitting on land while promising major projects with pretty renderings. Finally, they sought their own financing with banking institutions like Landmarks, Gershland, and UMB. Each bank denied the Boyd's mortgage applications. While you might assume, as the reader, that this was during the height of Redlining, this was actually in the 1990s – long after Redlining became explicitly illegal. None of the banks gave Boyd any reason for their rejection, until finally he strolled into UMB and demanded to know why they could not be approved for a mortgage. UMB claimed that it was due to credit card debt, which amounted to a couple hundred dollars spread over a few credit cards, despite their steady combined income.
It would be an easy fix under normal circumstances, but UMB forced Boyd to send physical copies of the money orders used to pay off the incredibly minor credit card debt to the bank. For those who have never experienced the process of applying for and receiving a mortgage, this is an inexplicably complicated process they forced Alderman Boyd through. The banks also did not follow one of the most important elements of the Equal Credit Opportunity Act, passed in 1974, which requires lending institutions to always provide a clear reason for mortgage or loan denial.
Boyd ultimately resolved the issue, only to find himself hindered by the appraisal for his 3-family property he was revitalizing. The appraiser claimed that she could not provide an appraisal of the value he needed for his mortgage in their North St. Louis City neighborhood. The Boyd's simply needed an appraisal of 50k or higher, and appraisals in Soulard, which was in poor shape and beginning to see more rehabs at the time, were significantly higher. They Boyd's finally prevailed after significant effort with the bank and the appraiser, ultimately receiving an appraisal of 70k+. After the rehab, the St. Louis Post Dispatch and CDA featured the property under the "House of the Month" series run at the time, all the while not recognizing the many obstacles in place that prevent passionate neighbors of his improve their community.
Even more ironic, they became the "poster children" for UMB Bank, making massive posters of their home in their bank branches as an example of what was possible with their rehab loans, despite their initial denial and near refusal to appraise the home at the value necessary because of its neighborhood.
At the same time, his neighbors have been preyed upon by predatory lenders. First time homebuyers were buying mortgages that were sold as all-encompassing, as most mortgages are, but that ultimately did not package in property taxes, insurance, and mortgage interest into the loan. These residents were met with massive bills at the end of their first year of ownership and were either foreclosed upon or had to make major sacrifices. Most of those homes now sit vacant, dilapidated, and devoid of the life they used to hold.
Missouri Metro greatly appreciates the willingness Alderman Boyd to share his story that unfortunately is all-too-common among North St. Louis residents. These were not always low-income communities, where vacant buildings often outnumber those occupied. Boyd remembers being able to walk to the nearby JC Penny, and the many stores nearby that helped makeup a somewhat middle class neighborhood. There were concerted, systemic efforts made by large institutions that local governments either ignored or tacitly supported that decimated Black communities.
Alderman Boyd's experience fills out the context for why the Kingsway Development proposal is so impactful and important to analyze. While he is not too familiar with the project, he knows of Bryant and the effort he puts into his work. This project also begins to meet Boyd's criteria for positive development in North City communities, bringing real, sizeable investment and public financing to a neighborhood that needs it. Better yet, it brings a more mixed community, one with amenities that will serve a diverse population in a densely built environment.
While the development proposed just may make a big difference at this intersection, it will require much more than the laudable work of Bryant to restore North STL. It will require focus, oversight, significant financing, and buy-in from the broader St. Louis community. There must be a huge shift in how and where public financing is utilized in the city, founded upon a broad recognition and understanding of how St. Louis, like many other cities, has historically failed its Black residents and communities.